World Kitchen has created a new generation of the classic CorningWare French White Cookware. This improved product line has the following modernized features to make cooking and serving easier:
* Elongated handles for improved safety and comfort
* Vented and translucent plastic covers to optimize freshness
* Glass covers with ergonomically designed, easy-grip knobs
* Insulated thermal carriers to make transporting food more convenient
* Non-stick roasting racks (in some items) to facilitate low-fat food preparation
According to the manufacturer, CorningWare products are safe for repeated microwave and oven use, are non-staining, non-warping, odor-resistant, and dishwasher compatible.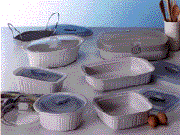 Although additional shapes and sizes will be introduced over the next two years, the following items are presently available:
2 Quart Round Dish with Glass Cover - $14.99
4 Quart Oval Roaster with Glass Cover - $19.99
4 Piece Thermal Carrier Set with 3 Qt Oblong Dish and Vented Plastic Cover - $29.99
6 Piece Set: 9" X 13" Baking Dish, 8" Square Baking Dish, 1.75 Qt Loaf Dish, Non-Stick Roasting Rack, Vented Plastic Covers - $39.99
Available at mass retailers, department and specialty stores. To learn more about the CorningWare line or to locate the closest store call 800-999-3436 or click here.